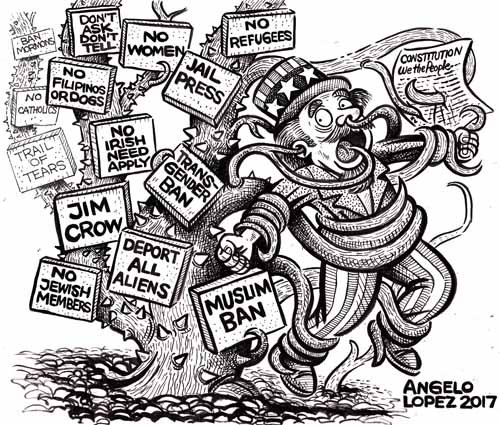 This has been a roller coaster of a year for me, both in terms of politics and in terms of my personal life. At the beginning of the year I attended a lot of protests and political rallies.  Being around like-minded people really helped pull me out of the depression I sometimes felt when I would read the latest news of Trump and his administration.  When my father had knee replacement surgery, I had to pull back from doing any political activities, as I spent more time helping my parents out.
Three issues are uppermost in my mind in 2018 when I do my political cartoons: the racism and religious bigotry of the Alt Right and its bad influence on the Republican Party; figuring out how to bridge the divide between the working class white communities that supported Trump and the minority communities that feel threatened by Trump; the horrific nature of Duterte's policy of extrajudicial killings, which is just state sponsored murder.  I deeply dislike Trump, but in 2017 I tried to focus my cartoons more on the issues rather than personally attacking Trump.  Trump may be exploiting the great racial and cultural divisions in this country, but he didn't create those problems.  
One of the biggest challenges that I think Democrats and responsible Republicans have to face is to bridge the divide between the white working class communities in the Rust Belt and South and the minority communities found in the urban areas of the coast.  Many of these working class white communities are facing the same problems that inner city African American communities faced in the 1970s and 1980s.  As the industries that once provided middle class jobs to those communities began disappearing due to either globalization or automation, both white and black communities began exhibiting the same symptoms of despair: a widening drug problem; a lack of hope for the future; a loss of faith in education; a rise in suicide rates; a sense of isolation from the wider American society; an increase in crime.  In the same way that the economic struggles of the 1920s and 1930s led many Germans to support Hitler, a sense of economic despair and anger is making a portion of the white working class more vulnerable to the bigotry of the Alt Right.  This increase in prejudice in turn is having a devastating effect on many vulnerable minority communities.
So I think our government needs to find ways of helping both these working class white and minority communities.  Both communities have far more common interests than they have differences.  They need to see that minorities are not their enemies.  The great foe to both groups is the economic inequalities of the current system.
I also think it's important to return to civility in political discourse. One of the things that I hate most about Trump is his reliance on personal attacks and demagogic appeals rather than sober discussion on political issues.  "Little Marco", "Lying Ted", "Crooked Hillary", "Pocohantas".  I think this reliance on personal attacks is very bad for our democratic discourse.  One of the foundations of a democratic republic is the sober discussion on political issues.  People of differing views cannot have an intelligent debate on important issues without civility.  I used to try to engage with anyone who wants to discuss politics with me. After several bad experiences though, I've learned that I have to pick my spots on when to engage and when not to. I'm still willing to have a dialogue with sane conservatives who are respectful of differences of opinion.  I've had too many bad experiences though with crazy conservatives who are just interested in a monologue where I'm just expected to listen and automatically agree with everything they say. 
For the past year I've also focused my political cartoons on the extrajudicial killings in President Duterte's war on drugs.  Killing people who are only suspected of a crime without giving them a chance to defend themselves is immoral.  But I feel like a lone voice in the wilderness.  Right now Duterte's approval rating in the Philippines is in the high 70s, though the Catholic Church, various leftists groups and human rights activists are becoming more vocal in their criticisms of extrajudicial killings.
In 2017 I was so focused on politics that I didn't do as much art as I would've liked.  In 2018, I will continue to go to protests and political rallies.  But I also plan on doing more paintings, web comics and children's book ideas.  I've decided to self publish some of the children's book ideas that I have on Createspace rather than continually sending them to publishers to get rejected.  If I have time, I may start doing my Jasper the Cat cartoons again.  All this depends on me having the discipline to manage my time better rather than get distracted.  
So those are my plans for the new year.  My best wishes for everyone and their plans for the new year.